Regular price
Sale price
€20,99 EUR
Unit price
per
Sale
Sold out
Now available on Amazon: 
Amazon UK 🇬🇧
Amazon Italy  🇮🇹
Amazon Spain 🇪🇸 
 As an Amazon Associate, We earn from qualifying purchases.
Learning timer T-593 & T-603 by dretec
In one word "simplicity"!
Very popular in Japan and South Korea, this model is popular with both children and adults! Large buttons and a large screen also make it more accessible to people with disabilities.
So many assets that make it practical for studying, qualification, time management, Pomodoro sessions, exercising, or gaming.
When using, the timer tells you with a LED light and beep when the designated time is up. Operation sound can be muted in public places to only get notified by the blinking light.
Ideal for the Pomodoro technique.

Features
• Timer (Countdown & Stopwatch): faster timer settings with 4 different preset time (10sec, 1min, 5min, 10min)
• Repeat function: once the alarm is stopped, press "START/STOP" button twice to display the preset time
• Fold-over count: When the countdown reaches "00:00" a folding count will begin to increase. This feature is ideal for monitoring your break time during Pomodoro sessions, or effortlessly tracking any extra time spent)
• Clock: 12-hour AM/PM display
• Ergonomic design: easy-push buttons for quick actions and a 45 degree angled screen for easy viewing
• Alarm & LED light: an alarm can be set with a LED light notification for a minimum distraction
• Mute & Lock function: volume has 2 selections "ON" (10sec beep) and "OFF". A lock feature prevents from any unexpected operations

Product specifications

English buttons and display
Product size: W88×D60×H45mm
Product weight: 80g
Battery: AAA battery 2pcs
Battery life: ≈ one year (10s / day, twice alarm sounded)
Display: 5 digits of liquid crystal digital
Max set time: 199min 50s
Count-up max measurement time: 199min 59s
Operating temperature: 0〜40℃
Clock precision: ± 30s difference / month
Alarm ringing time: 10s / silent
English & French manuals included
Original Japanese packaging
Barcode number:

T-593WT: 4536117037838
T-603BL: 4536117037883
T-603PK: 4536117037852
T-603PP: 4536117037869
T-603GN: 4536117037876
Share
View full details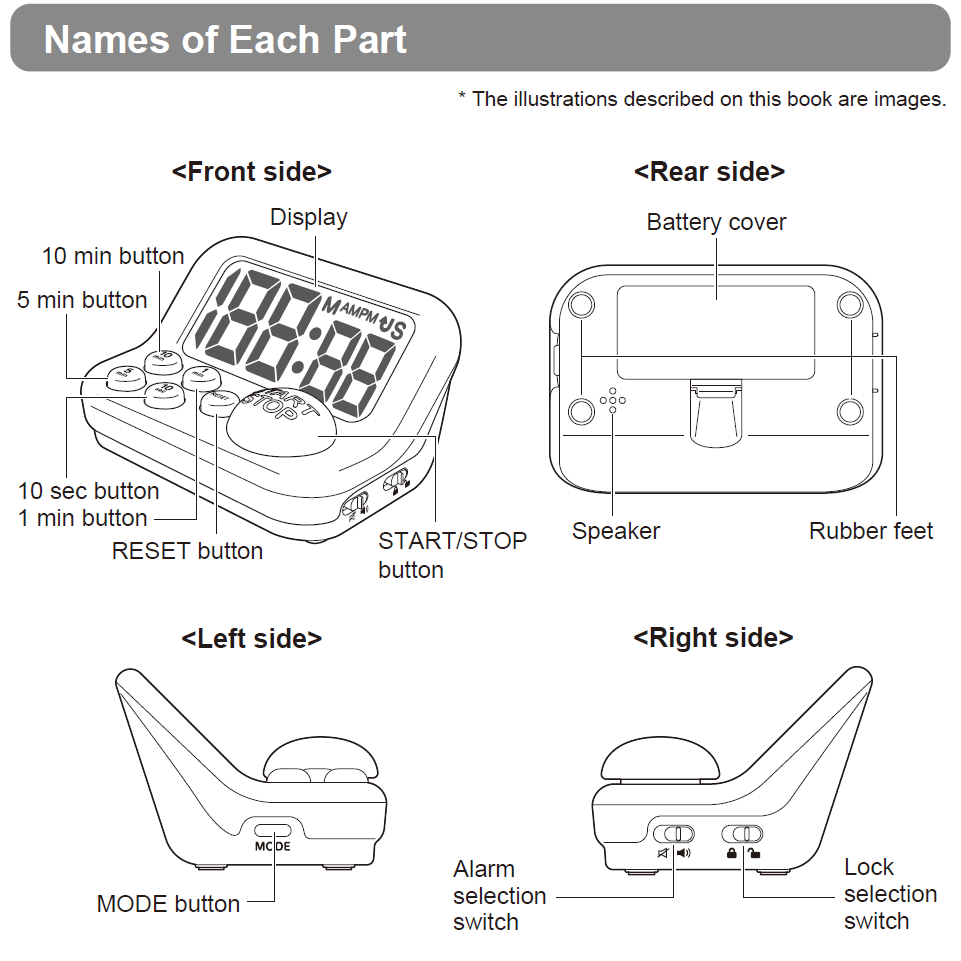 Fun Design!
It looks like a game console and its fun design will motivates you to use it regularly!

Instead of using smartphone features for work and being distracted, the study timer helps you manage your environment and stay focused on your tasks.
Easy-Push Buttons & Fast Timer Set
START/STOP button with upgraded design!
The button has a shape that pops out and provides a pleasant firm push.
Press it just like playing a game and study time will become a lot more fun!
Choose between 4 different time preset (10sec, 1min, 5min, 10min) for a quick timer set.
Blue LED Light
When using the timer the large START/STOP button blinks with a relaxing blue LED light when the designated time is up.

The Blue LED light does not interfere with concentration.
Alarm & Lock Features
A lock function prevents you from errors during manipulation or transport.

Volume has 2 selections "ON" and "OFF"
➯ When the alarm is ON it activates a beep that last 10sec at the end of the count-down, and a blue LED light will blink at the same time.
➯ When the alarm is off, only the blue LED light will notify you when the set time is reached.
Ergonomic & Large Display
Features a 45 degree angled screen display for easy viewing!

The angled screen makes it easy to see while you sit down.

The LCD screen is also large, so you can see the remaining time just by looking at it!
Timer & Long work sessions
The maximum set time is 19minutes and 50 seconds to give more opportuinities for long work sessions lovers!

2 timer functions available:
➯ Digital Timer (Countdown)
➯ Stopwatch (Count-Up).

The timer has a repeat function. After stopping the alarm sound, the original setting time is displayed.
Fold-over Count Feature
Once the set time passes, the folding count will start to be turned up.

Especially recommended for testing study.
Clock mode
A clock mode with 12-hours AM/PM display can be selected.

By pressing the "mode" button on the left side of the timer, you can switch between "timer" and "clock" mode.
Chose your style!
Chose between the white or the blue version currently available in our store!
Blue, green, pink, and purple are vibrant colors with good coloring, and were selected based on the colors of stationery and school bags preferred by japanese elementary school students.
Tell us in the forum what colors you'd like to see in future!
(English and french user manuals are included)