Regular price
Sale price
€19,99 EUR
Unit price
per
Sale
Sold out
Now available on Amazon: 
Amazon UK 🇬🇧
Amazon Italy  🇮🇹
Amazon Spain 🇪🇸 
 As an Amazon Associate, We earn from qualifying purchases.
Learning timer T-580 & T-587 by dretec
This is one of the latest in the line of dretec timer models, and it comes with two convenient timer modes and a clock!
The Learning timer is versatile and can be used for various activities such as studying, qualifications, time management, Pomodoro sessions, exercising, or gaming.
Set the alarm and focus on your tasks! Once the time is up, a sound will play and a tiny LED light will blink. The operation sound can be muted in public places, so you'll only be notified by the blinking light.

Features
• Large START/STOP button
• 2 timer modes: displays in hours and minutes ("HH/MM/SS" and "MM/SS/HH")
• Countdown & Stopwatch for each timer display
• Repeat function: once the alarm is stopped, the preset time is displayed
• Clock mode (AMPM / 24 hours)
• Alarm & LED light: an alarm can be set with an LED light notification for minimal distraction
• Alarm ringing time: 15sec / 1sec / silent
• Day countdown function (useful for tests & examinations)
• Lock function: prevents any unexpected operations
• Portable design

Product specifications

English buttons and display
Product size: W60×D80×H23mm
Product weight: 63g
Battery: AAA battery 2pcs
Battery life: ≈ one year (15s / day, twice alarm sounded)
Display method: 7 digits of liquid crystal digital
Max set time:

Timer (min): 199min 59s
Timer (hours): 199h 59min 59s

Count-up max measurement time:

Timer (min): 199min 59s 99
Timer (hours): 199h 59min 59s

Operating temperature:  0〜40℃
Calendar setting: from 2018 to 2050
Day count max setting days: 9999 days
Clock precision: ± 60s difference / month
Alarm ringing time: 15s / 1s / silent
English & French manuals included
Original Japanese packaging
Barcode number:

T-580WT: 4536117031928
T-587PP: 4536117033106
T-587PK: 4536117033113
T-587PK2: 4536117033120
T-587GN: 4536117033137
T-587BK: 4536117033144
T-587BL: 4536117036688
T-587BL2: 4536117036695
T-587BK2: 4536117036701
Share
View full details
Cute & Compact design
You will love its cute design! The Dretec timer t-580 is compact, portable, and easy to use!
You can bring it at school, in your library and any public place without disturbing those around you.
Light indicator and Large button
When using the timer modes, a red LED light and a beep tells you when the designated time is up.
You can disable the sound to get only notified by a red LED light for maximum discretion!
A large START/STOP button makes it easy to operate, while three buttons allows you to quickly set new timers.
A repeat function allows you to start the next timers with the same value once the designated time is over! (works for both timer modes)
Slanted screen
The screen is slightly angled for easy viewing!
Top view easy reading
The timer is also suitable for top view reading.
It's useful during your tests, oral examinations and any context where you have to manage your time while standing!
Lock & Sound level
A handy lock feature prevents from any unexpected operations!
There are also 3 levels of sound: mute, 1sec beep ("pipip"), and 15sec beep (pipipipipip~ that continues until you push it ♩)
For each sound mode, a red LED light will blink for 15sec.

The volume is probably a little loud so that it makes a continuous sound.
Clock/Timer & D-Day countdown
➯ 2 timer modes: displays in hours and minutes ("HH/MM/SS" and "MM/SS/HH")
➯ Countdown & Stopwatch are available for each timer display!
➯ A Clock mode is also included with selectable display (AM/PM or 24 hours)
➯ A day countdown function displays how many days are left until a scheduled event. Ideal to stay focus on important exam date or event.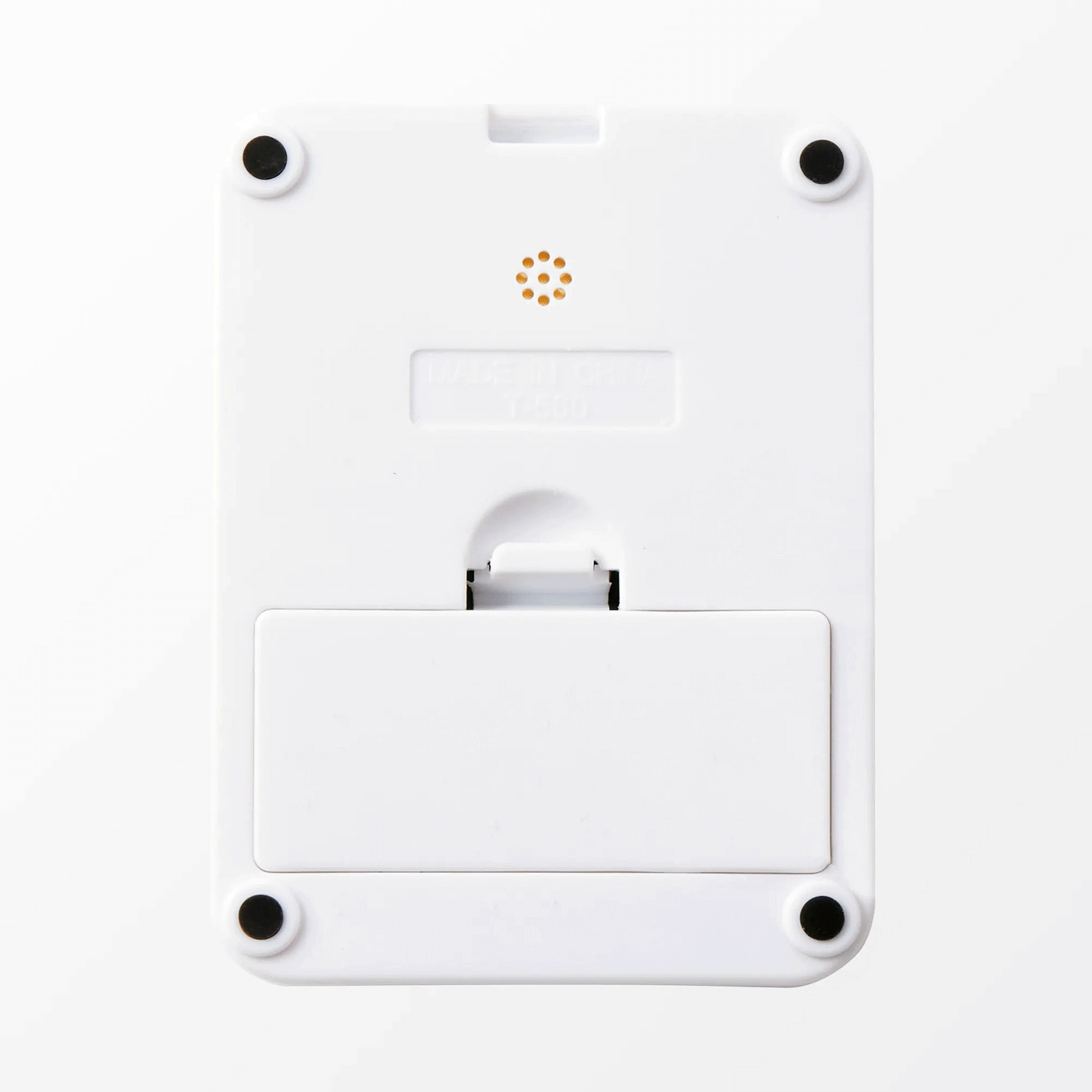 Anti slip pads & AAA cells
The timer don't slip easily thanks to 4 tiny anti-slip pads.
The t-580 works with 2 AAA batteries.
Attaching feature
At the back of the timer is a hole for threading a string through.
You can easily hang it on your bag to avoid impacts and increase its lifespan.